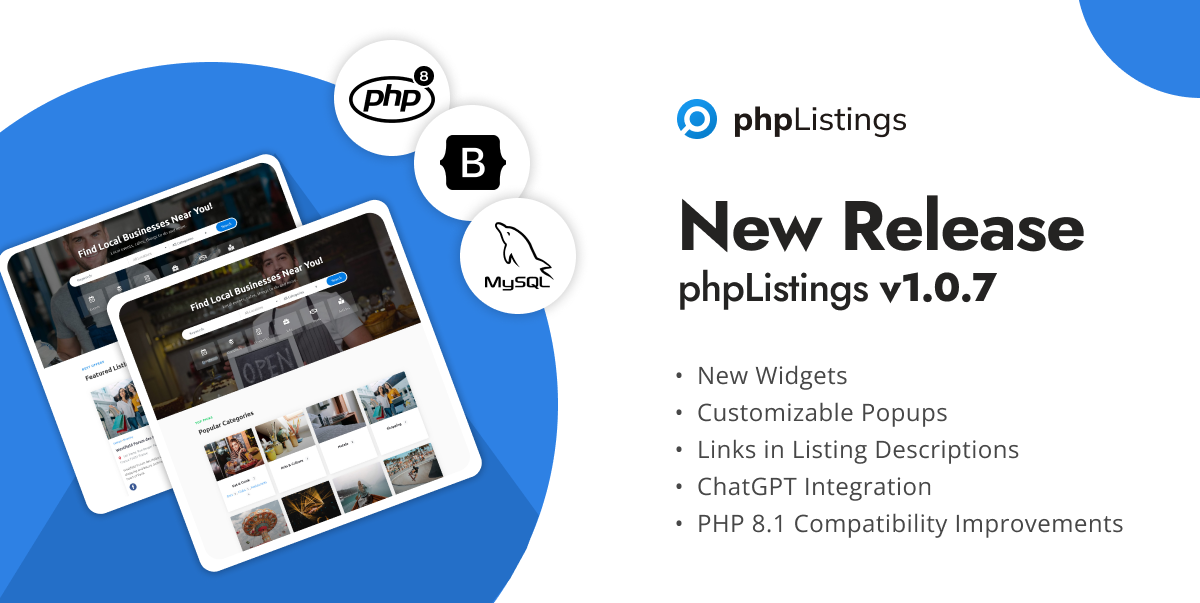 Good news! phpListings 1.0.7 is finally available! Please find the updated package in your phpListings.com client panel.
Top new features:
- "Quad-box Teaser" widget. Capture attention with four visually appealing clickable cards aligned horizontally. Each card includes an image, heading, and short description.
- "Reviews" widget. Display selected listing reviews in the latest or random order, with customizable rating ranges and the option to link to the current page's category and/or location.
- "Popup" widget. Engage your audience with eye-catching popups that can be triggered on any public page. Define the time delay, choose repeat or one-time display, and even restrict the ability to close the popup for specific scenarios.
- Links in listing descriptions. Enhance your listings by allowing clickable website links within their descriptions. Easily configure the desired number of allowed links per listing product.
- Robots.txt editor. Easily edit and customize the robots.txt file directly from the administrator panel.
- WebP Image Format Support. Boost your website's performance with native WebP compatibility.
- Listing Order Cancellation via Dashboard. Grant advertisers the ability to cancel listing product subscriptions conveniently through the dashboard. Customize this feature per listing product pricing.
- Automatic CSS Minification. Boost your website's performance with effortless CSS file size reduction. Experience faster load times and improved user experience without manual optimization.
- Randomized listing order for the 'Listing Search Results' widget. Elevate your listings' exposure by placing previously overlooked listings at the forefront. Increase their visibility and drive more engagement, providing equal opportunities for all listings.
- Improved 'HTML Textarea' Field. This update enables OpenAI ChatGPT support, text alignment, font size adjustment, and color customization options for listing descriptions.
- 'Social' Form Field Enhancements. Introducing Alignable, Indeed, and Nextdoor as new additions to our supported social networks list.
The upgrade guide with a complete list of new features, updates, and bug fixes is available in the client forum.
Thank you.